There's a hint at the beginning of Martin McDonagh's Three Billboards Outside Ebbing, Missouri about where this wild ride is headed. Red Welby, owner of the billboard company, is reading Flannery O'Connor when Mildred Hayes, grieving mother of Angela, strides in–and, oh, this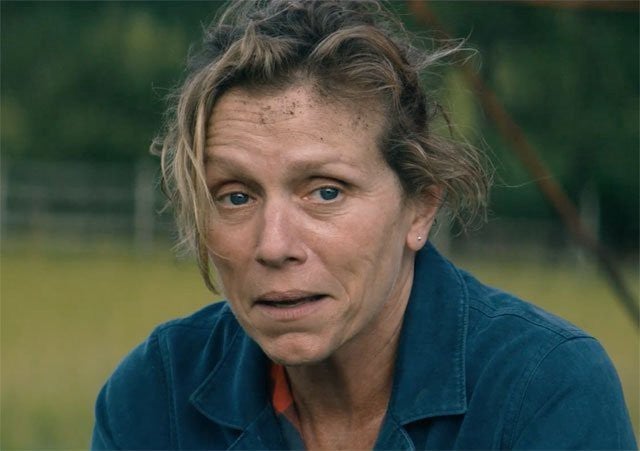 woman does stride–with $5000 in cash and a sorrow that has crushed her.
She pays for three signs on Drinkwater Road to get the attention of the town and to shame the police chief into doing more to solve her daughter's murder. Chief Willoughby is beloved by the townspeople and dying of cancer and sympathetic to Mildred's pain so it's left to officer Dixon–a foul, thuggish, dimwitted racist–to deal with Mildred's effrontery.
We soon learn that Mildred's own cruelty can be breathtaking, hardened as she is by loss and suffering and guilt. "There ain't no God and the whole world's empty and it doesn't matter what we do to each other?" Mildred poses this question to no one in particular and when she answers it with "I hope not" we know that a capacity for compassion–we get fleeting, unsentimental glimpses of it–resides alongside her savagery.
It isn't just that McDonagh's film is populated with the grotesque and that it captures so exquisitely an ethos where violence and tenderness, ignorance and insight coincide in almost every frame, within every character. And it isn't just that he seems to have taken to heart one of O'Connor's enduring bits of wisdom: "To the hard of hearing you shout, and for the almost-blind you draw large and startling figures."
It's that McDonagh seems to believe that one really can be changed in a moment, that a sudden flash of insight or truth can come like a purifying fire–quite literally in the case of Dixon or, for Mildred, from a despised enemy–and everything can change.
In the few reviews I've read, it's Dixon's transformation that comes under the most scrutiny for both its lack of believability and the unsatisfactory way it glosses his virulent, violent ways. I get that. Especially in this current cultural moment.
But I think about the ending of "A Good Man Is Hard to Find." The insufferable grandmother, the murderous Misfit. Each, in a startling blaze of terror, discovers the truth about themselves and each other.
She saw the man's face twisted close to her own as if he were going to cry and she murmured: "Why you're one of my babies. You're one of my own children!" She reached out and touched him on the shoulder. The Misfit sprang back as if a snake had bitten him and shot her three times through the chest. Then he put his gun down on the ground and took off his glasses and began to clean them . . . 

"She would have been a good woman," the Misfit said, "if it had been somebody there to shoot her every minute of her life."
It's a flicker of grace in both O'Connor's short story and McDonagh's movie. Who knows if it will last. The film keeps us guessing about that. But maybe we can be changed in a moment, in a twinkling of an eye.